As a little girl, my experience of faith was inextricably intertwined with the coursing imagination that pulsed through my veins.  I listened Bible stories and cricket concertos without filters of doubt and fear, full of possibility. Stories of mustard seed faith moving mountains were simultaneously more fantastical and more concrete than I dare to envision now.
"We do live, all of us, on many different levels, and for most artists the world of imagination is more real than the world of the kitchen sink." – Madeleine L'Engle
We listened to a bit of CS Lewis' Narnia on a long drive this weekend, and we talked about the empty tomb. I remembered, again, that in Christ we are being redeemed, imaginations and all. We live between a broken world, welcoming in the kingdom come, Thy will be done.
My children are small and together we are making space for holy imagination.
I've been stretching imagination muscles in paint and pigment, writing down childhood stories just for my girls and my own memory – not for book-making or blogging. I'm remembering story and plays, the wildness of the woods,  and whopping adventures that make long car drives a laughing matter.
Holy imagination.*
A blanket becomes a fortress.
Shadows become dragons; a mother's voice dispels their power.
A playground becomes a kingdom and the kingdom becomes a playground.
It's Easter Monday, and we are being made new.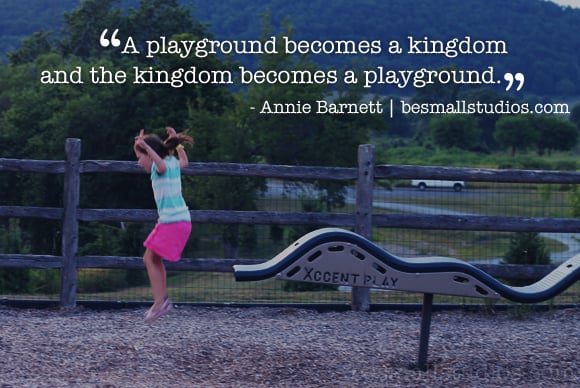 * I think I first heard this term at Story Warren. Their site is lovely and inspiring for all the Mamas and the Papas.