There's steaming tea and honest conversation, a slow unknotting of tangled introspection.
There's slicing fresh garlic into warm butter, a kitchen way to knead away the tension.
There's meticulous pen drawing and wild watercolor freedom.
A walk in the fresh, icy air.
Ten golden minutes of silence.
Catharsis.
What does it look like to love mercy, do justly, walk humbly with God – in the dailiness and the small unseen places, in the midst of heartache or the throws of great joy, in my words and relationships? I suspect I will spend all my days dancing round the kitchen with this question.
I am a new creation in Christ, and find life and wholeness hidden in Christ. Yet here, between the kingdom come and the not yet, we live on the tight wire of grief and joy, promise and longing, wonder and doubt. I don't think we were made to hold all the tensions of our one small life inside our brains, our skin – let alone the weight of the world. All that tightness has got to eek out somewhere.
There's this word I've been holding, turning over in my mind:
Catharsis.
I love it for it's harsh phonemes (this from the woman who would have named her daughters Blanche and Edith). I love it for its centuries of meaning and  history to unravel.
In the fine lines and the water-washes I am learning breathe out and slow to a good pace. I once painted fast – three drafts in half an hour. This latest painting took weeks of slow details, mostly, I suspect, because I needed the time to marinate in the slow crafting of an imperfect nest, the remnants of brokenness left behind when new life breaks the fragile shells that once nourished and sustained.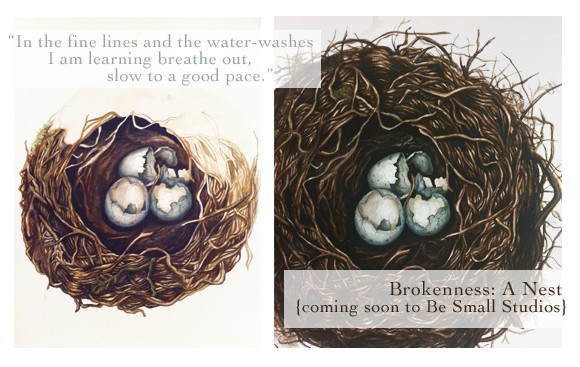 Catharsis.
I think we're hard wired for it: the slowing down and the purging and the letting out. Always our bodies are letting loose of the excess, the toxins, even the cells-once-alive. Green smoothies aside, I'm learning to set my heart on one good thing and doing it mindfully.
I'm holding this word as a gift. Perhaps these small acts of creating and catharsis are a small means of grace, whereby the aches of the in-between can bleed onto cold press paper of rise in the bread baking, shake off like dust as my feet circle the block.
Tell me, do you make art to let out the tension? Where do you find grace to slow?