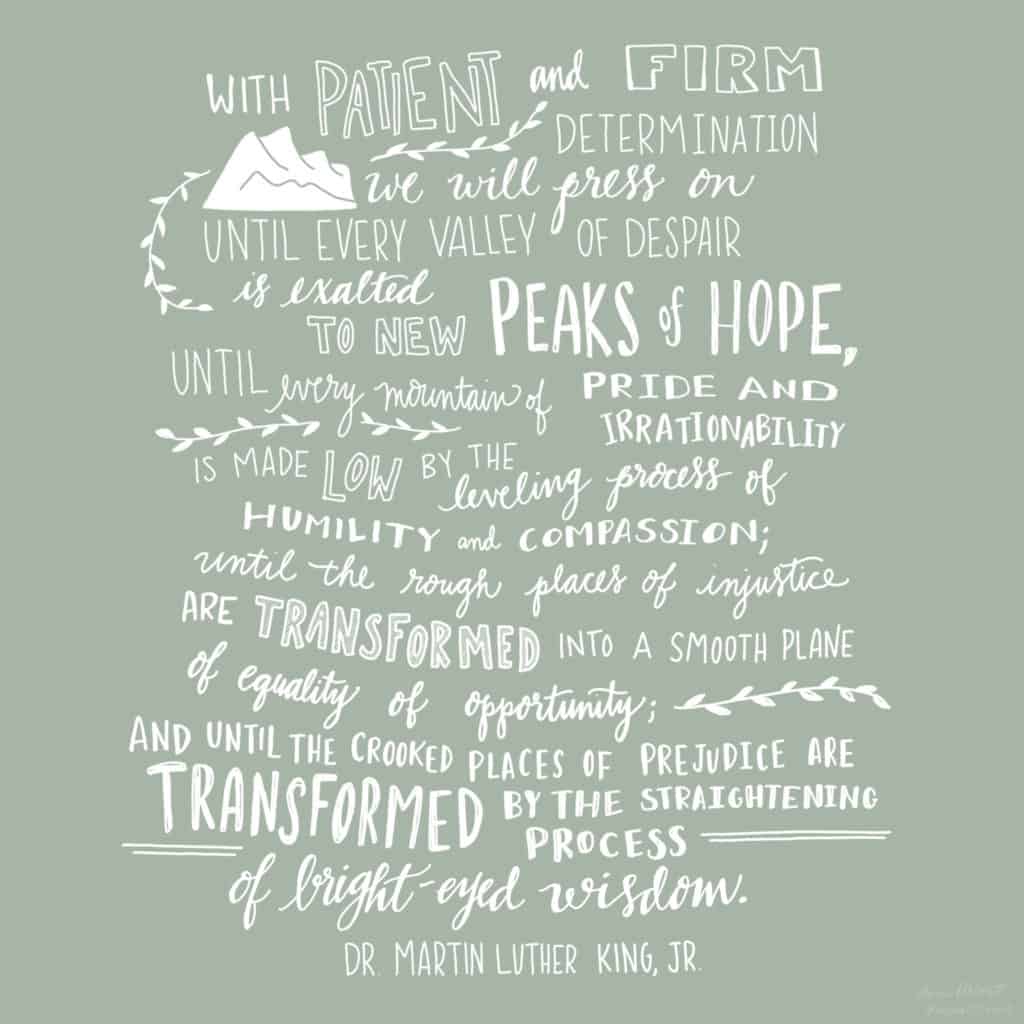 Our kids are home today, as schools around here close to honor and remember the life and work of Dr. Martin Luther King, Jr.. Growing up in the eighties, we celebrated the third Monday in January by coloring purple-outlined ditto worksheets declaring our color-blindness, asserting that all people were valuable and important regardless of the color of their skin, and thanking God that we were living in a time when all people were treated equally.
As I've grown older, as the world has grown nearer, I am coming to terms with the reality that we are a far way off from the dream Dr. King envisioned for us. Incarceration rates, the history of redlining that still impacts neighborhoods and schools this very day, and the inability of so many of us to even affirm the inherent value of black lives, to even so much as say that those lives matter: all this speaks to the work we have left to do. As a white parent of white children, I have the opportunity to honor Dr. King's work by choosing not to gloss over the reality of the injustices faced by people of color today, a privilege I have taken for granted in the past, and am learning to see.
So this weekend we'll start by rereading A Poem for Peter, by Andrea Davis Pinkney.  Pinkney tells the story of Ezra Jack Keats, who wrote the 1963 Caldecott winning children's story The Snowy Day. If you aren't familiar with it, The Snowy Day centers the narrative of a little boy named Peter, enjoying the simple joys of childhood, in a time when people of color were absent from pages of children's literature.
Pinkney's verses speak to the complexities and heartache of discrimination and injustice, as she describe's Keat's life and his journey to write and illustrate The Snowy Day. Her playful poetry allows children to absorb the story, and affords parents the opportunity to engage in meaningful conversations with their kids about Peter, Keats, and race in America. We'll read The Snowy Day and we'll read A Poem for Peter. We'll linger over verses where Pinkney describes the state of children's publishing in the 1950's:
All heroes in all the comics
were always as white as a winter sky.
Peter, child, you were so-not-anywhere
among any superheroes.
We will not gloss over the fact that this was true then, and is still an issue now:
….For sure,
making art for children's stories
was a jubilant reason to rejoice.
Okay, maybe so, but the delight
was all white.
The books on the shelves made Ezra call out
like a daddy looking for his lost child:
Where are you?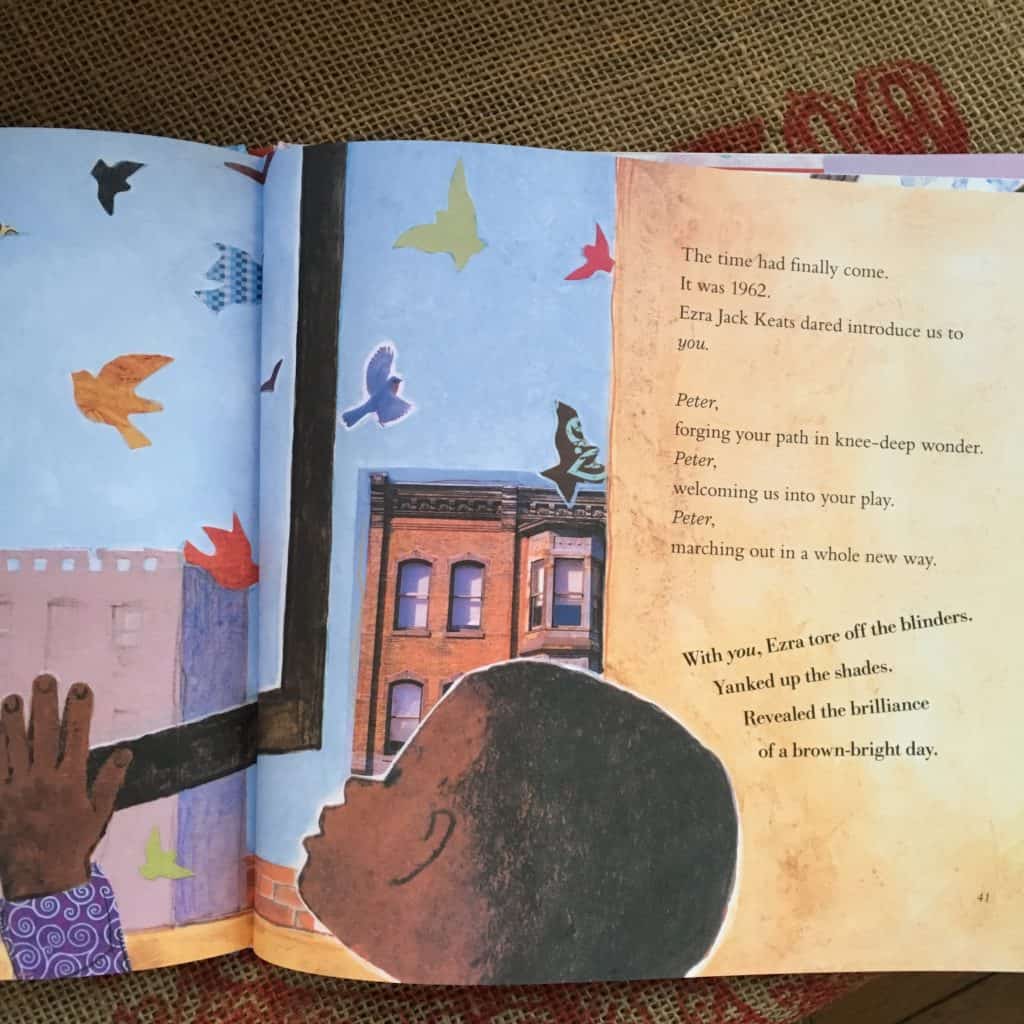 This weekend, we will stop, and ask who is missing from our neighborhood and our churches and our bookshelves and our comics. We will look at our table and our park play dates, and ask the question: Where are you? We will talk about the privileges we take for granted, and the ways we can listen better. We will look at Ezra Jack Keats, and ask how we, too, can center the voices of others, of brothers, of sisters who look different from us.
We will reflect on the passage of scripture preached at our church this Sunday, where Paul calls Peter out on his willingness to "other" the gentiles. We will talk about God's heart for all people – every tongue and tribe and nation, and how we as a church (how I as a person) have often opted for comfort that mirrors our own faces and experiences instead of His call, instead of the beautiful mosaic of the Body of Christ. 
We will take out our box of Crayolas, the big yellow tin box with all the colors and find fifteen, twenty, twenty-five different crayons to shade skin in honest colors. We will remember Dr. King with our elementary school coloring pages, asserting that all people are valuable and important regardless of the color of their skin, but we will not pretend we have arrived in some dream land. We will teach our children what life was like in 1963, when Keats took home a Caldecott Medal and Dr. King wrote a letter from Birmingham Jail. We will look at what life is like today, in 2017, and lean into the hard questions, and begin to work toward that dream together.
A few resources for parents who are beginning to talk to their kids about race. I am no expert, I am learning here too. These are resources I've found helpful.
Raising Race Conscious Children by Joanna Goddard
How to Talk to Your Kids About Race
Read Aloud Revival Podcast Episode #53 with Linda Sue Park
Linda Sue Park's Ted Talk "Can A Picture Book Change the World?"
The Titles on this New York Times Book List
Grace Lin's Ted Talk on Windows and Doors
We Don't Need More Diverse Books. We Need More Diverse Books Like The Snowy Day. by Rumaan Alam