I sit down at the dining room table with the familiar mess: a million shards of safety-scissored scrap-paper transformed into a miniature bookshelf by a miniature artist; a formidable stack of papers from the preschool; a leaning tower of library books; and an abandoned teacup, half finished. I hope it was today's tea.
I dream of converting the guest room into an art studio – I've even put that old kitchen table up there as a place-holder for the dream. But it's here, the dining room, in the middle of the mess and the chaos, that I still come to paint. I come after my girls are tucked in at night, or while they watch the third episode of Wild Kratts in the other room, or now, while they shape play-dough into baked goods between their not-so-chubby-anymore fingers and imaginations.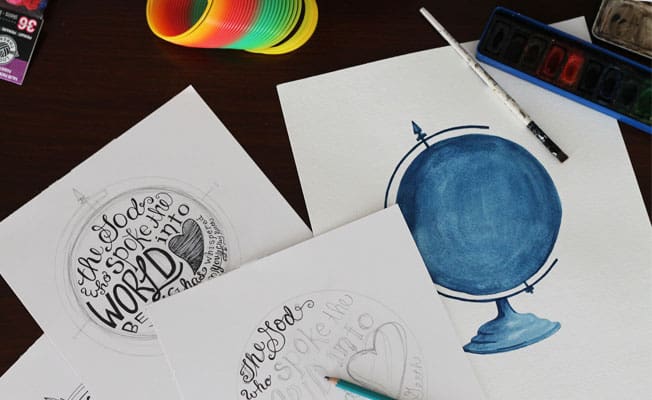 We are making here, always.
We make dinner, and make forts out of blankets, and we make faces of frustration, the likes of which live on precisely no-one's Instagram feed. We make messes and we make space and order and then we make messes again. We make it through bedtime and make love even in the tired seasons of life. We make memories and we paint with words and make story and make believe and we are making, making, making.
I make, more and more these days, with pencil and paint. I am embracing the idea that this gift, the art that always seeps out some place, can be my vocation. And the art can be a hidden wellspring. And the art can be an offering. I begin to see my art through this tri-focal lens…. (read more)
I'm sharing over at (in)courage today about the process behind the Words Matter Prints I made for DaySpring this fall. Hop on over to read more and see their special offer!